You have already read it many times: Content Is King. Bloggers and content marketers often ask themselves: How to know how many word counts are ideal for an article?
In this article, find an estimate word count of your articles according to your sector of activity.
Is word count important for a blog post?
Word count is important in an article. But it hardly matters when the content is of excellent quality. Better to write a short article with quality content and very accurate rather than pulling length on an article with 3000 words and a content not interesting to the reader. More and more readers no longer take the time to read the entire articles, they fly over them! So concentrate your articles so that you don't lose your readers along the way. You can find many word count tools like word count calculator or word counter which helps you to get the best and ideal length for your blog.
The evolution of the ideal number of words in a blog article
The number of words in an average blog article is between 500 and 800 words, sometimes even shorter.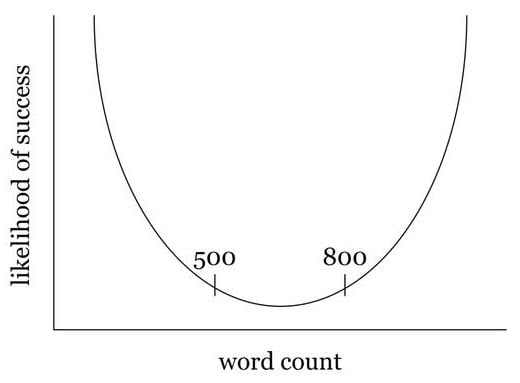 For example, American entrepreneur (and former marketing director of Yahoo) Seth Godin writes very short articles, less than 200 words and yet his statistics are excellent!
Why?
Simply because it has an excellent reputation and it is immediately associated with the quality content.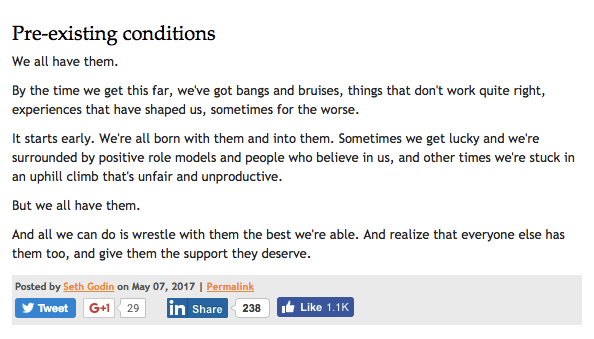 But unfortunately, this is not the rule for those who embark on blogging. A study was carried out to identify the link between social networking and the length of content.
According to this study, content that has between 3000 and 10000 gets the most sharing.
However,  SerpIQ conducted a similar study and the results are different. It is found that the ideal word count is around 2,450 words.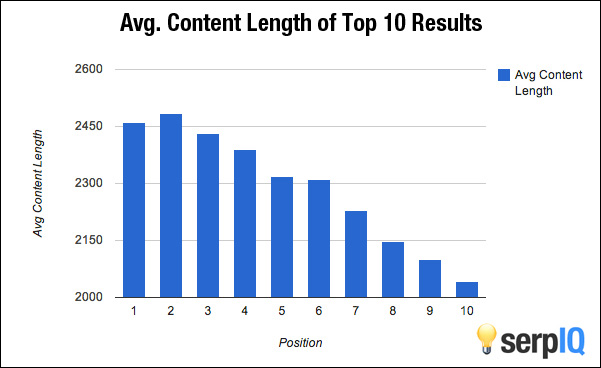 In September 2016, Backlinko found that the average number of words to appear in the first Google results was 1,890 words.
Although the ideal number of words in each of these three studies varies, it is clear that the long form is the most effective.
Why do long items work better?
Long articles cover a topic in depth while a short article will fly over the information. The long content will, therefore, be perceived as more qualitative (if the content is qualitative, of course). Moreover, the readers digitize the content, they no longer read all the words. Jakob Nielsen, an expert in computer ergonomics and UX, believes that visitors read about 20% of an article!
In the graph below you will find the maximum amount of text that users can read when visiting pages with different word numbers.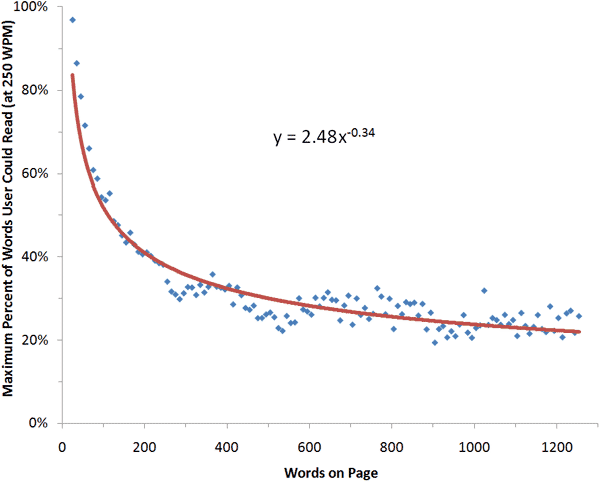 Number of words in a blog post (by sector of activity)
FinTech – 2,000 to 2,150 words
FinTech is a growing industry and "global investment has increased more than twelve times, from $ 930 million in 2008 to more than $ 12 billion in 2014."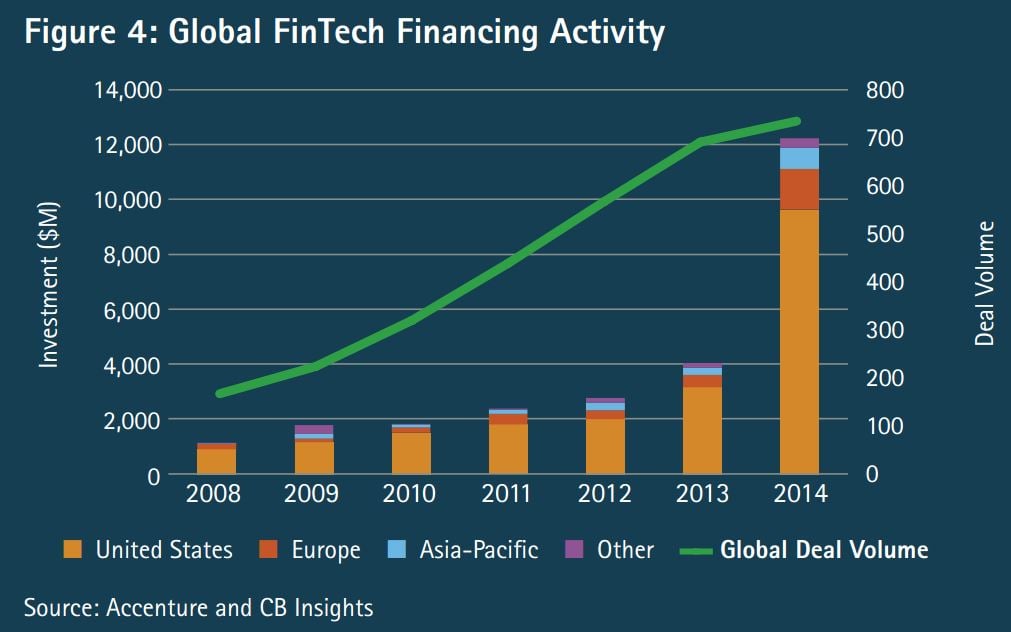 The subjects are quite complex and often require long explanations to get to the bottom of things. An article of 2,000 to 2,250 words should be enough to answer your readers' questions.
Finance – 2,100 to 2,500 words
According to Snap Agency, in 2016 content containing more than 2500 words get more shares on social networks.
As far as organic traffic is concerned, the average is between 2,250 and 2,500 words.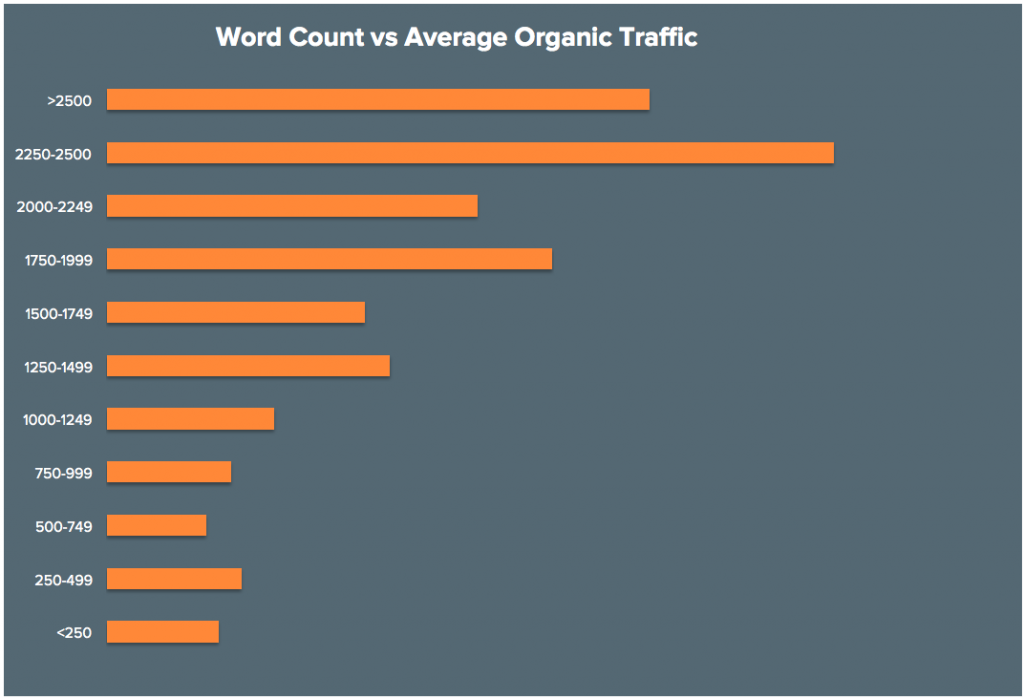 Manufacturing – 1,700 – 1,900 words
The manufacturing industry is huge, Google generates 795 million results for this word (manufacturing in English). Moreover, the term "manufacturing" covers an incalculable number of subjects! Going from chemicals and textiles to heavy machinery and equipment.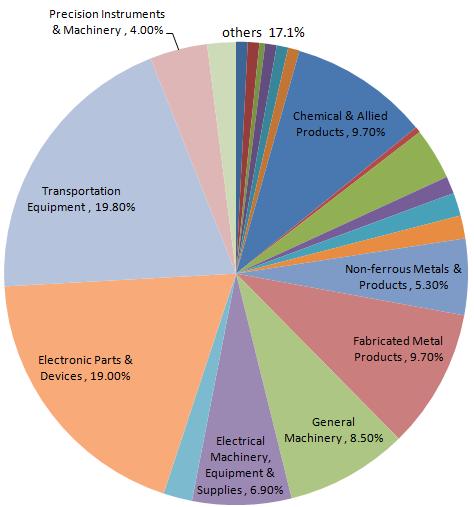 The ideal word count may, therefore, vary depending on your activity in the manufacturing industry. Between 1700 and 1900 seems to be a good average, as much of the manufacturing industry, especially industrial manufacturing, does not do much content marketing.
Sales industry – 2,500 – 2,700 words
The sales industry is also very important and encompasses different fields. The ideal number of words is quite high (between 2500 and 2700 words). There are also a lot of white papers and so on.
Retail – 1,500 – 1,700 words
Whether it's a big chain or a small store around the corner, retail stores have always been essential in the world. Retail online retailing in particular has seen massive growth in recent years.
And just like manufacturing, the retail industry is already highly evolved and can involve many different types of content. But when you look at the industry as a whole, we see that 2500-word articles are not necessary to describe a product or service. That's why 1,500 to 1,700 words seem to be a good compromise.
Real estate – 1 800 – 1 900 words
Real estate is a very competitive sector! By searching, blogs real estate Google gives over 85 million results. This means that it will be difficult to differentiate yourself and impose yourself as an expert in the field. You can specialize in a few key areas to target your readers. The ideal word count is between 1800 and 1900 words.
Home and Garden – 1,100 – 1,200 Words
These articles are often visual and use a lot of image and videos rather than a high number of words. You are probably wondering why the ideal number of words for this area of activity is considerably lower than the others (between 1100 and 1200 words).
There are many DIY tutorials to help readers realize a project. It is therefore not necessary to produce articles of 2000 words whereas a video is more explicit.
Technology – 800 – 1000 words
The field of technology requires a fairly low number of words (between 800 and 1000 words). Most tech blogs write quite concise articles and do not spread over 2000 words. Obviously, some topics may require longer content, do not restrict yourself!



Gadgets – 300 – 500 words
This number of words may seem very low, but do you really need 2000 to describe a new drone? Probably not! You just need to cover key features, interesting photos, price, etc. Just cover the background, its key features, interesting pictures, prices, etc. And you are ready to go.
Marketing / Advertising – 2,500 – 3,000 words
The field of marketing and advertising is a sector that often requires in-depth content and therefore long articles. If you look at some of the best online marketing blogs like Moz, HubSpot, Backlinko you will notice that the long content is king (between 2500 and 3000 words). All the players of marketing and advertising opt for a content strategy!
Health – 2,000 – 2,150 words
This sector of activity is also huge! If you blog about health-related topics, you are facing considerable competition. Not only are there influential magazines, but there are also a large number of scientific articles. So there are people on the market! For your content to be noticed and shared, you need to create quality articles. The ideal number is therefore between 2,000 and 2,150 words.
Fashion – 800 – 950 words
Just like technology and gadgets, the fashion industry does not require long items. One study even revealed that the optimal length for fashion items was only 669 words.

Whether you're talking about trends in fashion, style or models, an article that has between 800 and 950 words should be enough! And do not forget the pictures.
 Recruitment – 900 – 1000 words
This sector represents several billions of dollars where sales reached $ 147 billion in 2015. Most of the content that speaks of recruitment is rather short, between 900 and 1000 words. If you tackle a very specific topic in a particular field, your article will be more around 1200 words.
Food – 1,400 – 1,900 words
According to  Statista, total retail sales and food services in the US were $ 5.32 trillion in 2015. This means that the market is huge and that many people are writing about " Food industry and blogs flourish. The ideal number of words for this sector is between 1,400 and 1,900 words.
Travel – 1,500 – 1,850 words
Many of us consult travel blogs out of curiosity to escape … If so, you must have noticed that it is the long content that takes precedence! Look at this infographic of  New Age Media, the travel sector is one of the sectors where the number of words is the highest. An article of 1850 words should allow you to cover a travel destination,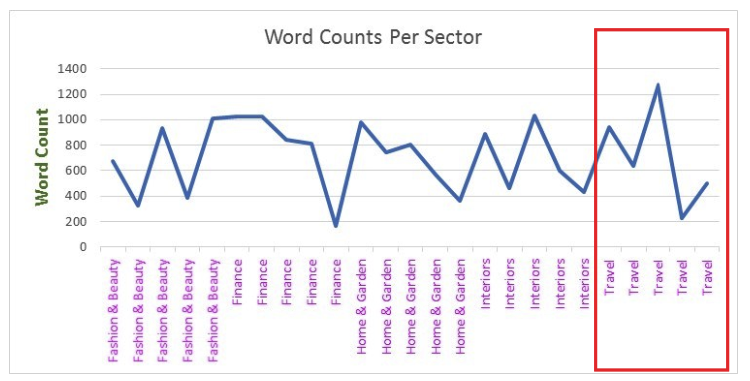 Film – 1,500 – 1,700 words
The film industry continues to grow. In 2016, just under 1.2 billion movie tickets were sold in the US. If you write about the film industry and movies, you are facing strong competition. So to distinguish yourself, choose long and complete articles between 1500 and 1700 words.
Conclusion
Obviously, these are only recommendations based on the experience and analysis of several sources! Unfortunately, there is no guide that ensures that your content will be number 1 of Google searches for X words. There are a lot of variables that come into play for an article to work on the Internet.